Road Closures & Uphill Restrictions
Vehicle traffic on high volume days, such as during storms or around holidays, may exceeded the capacity of the roadway and parking areas and create a public safety hazard. When this occurs, UDOT and local law enforcement will restrict uphill traffic in Big and Little Cottonwood Canyons.
An uphill restriction will only be initiated when BOTH resort and roadside parking availability is at capacity and can no longer safely support additional vehicles at that time. An uphill restriction is not a full road closure (such as when avalanche mitigation is occuring) and some traffic will be permitted.
Visitors are advised to adjust travel to off-peak days and times where possible and to plan ahead by checking the UDOT Traffic App, UDOT Cottonwoods website, social media, and resort information before heading up the Cottonwood Canyons.
Town of Brighton No Parking Zones
The Town of Brighton has designated areas where it is illegal to park on the SR-190 roadside. The fine for parking in a restricted area is $150 and will be issued to the owner of the vehicle.
**This map from the Town of Brighton is for general guidance purposes only. Accuracy is scale-dependent, and cellphone GPS is notoriously inaccurate at the scale at which parking occurs. Please verify parking availability using surroundings, signage, etc.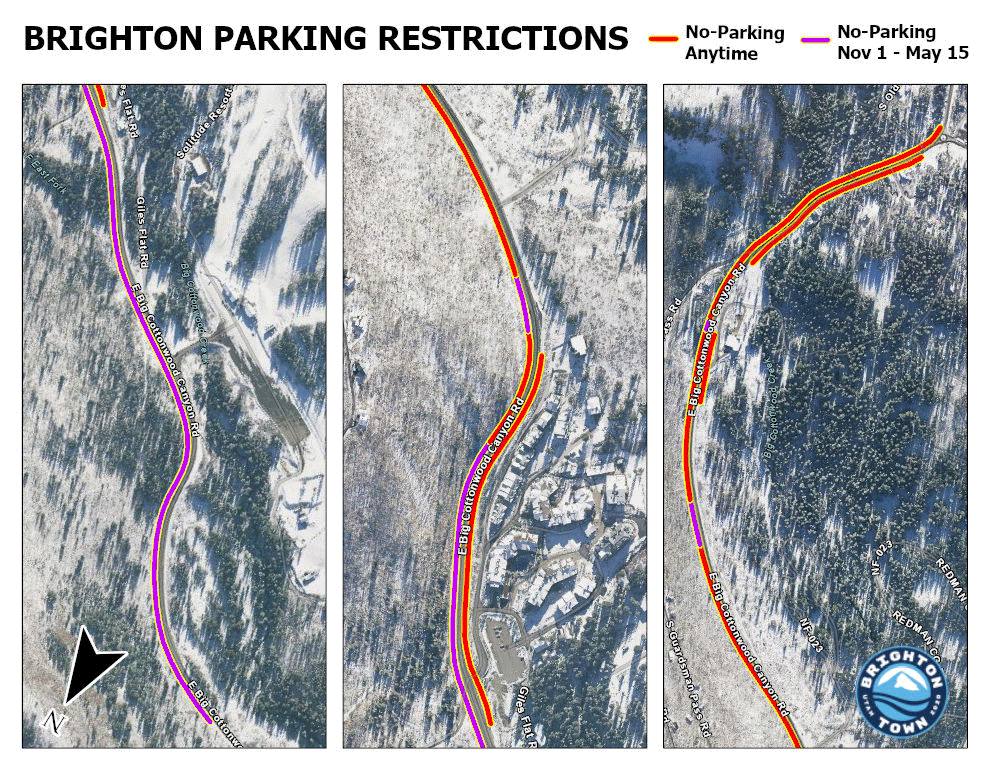 Cottonwood Canyons Road Closures & Uphill Restrictions Frequently Asked Questions (FAQ)