getting up the canyons //
Snow tires and chain requirements
In order to get up Big Cottonwood Canyon (S.R. 190) and Little Cottonwood Canyon (S.R. 210) incident free, it is important to ensure that you have traction devices appropriate for winter driving conditions. Snow-worthy tires or chains are not just for your safety, it is the rule of the road. The Traction Law is specific to a few critical parts of the highway across Utah, including both S.R. 190 and S.R. 210 during severe winter weather conditions.
AWD/4WD: M + S or M/S tires is the minimum requirement. Traction devices such as chains or 3 peak mountain snow flake (3PMSF) tires are also acceptable.
2WD: 3 peak mountain snow flake (3PMSF) tires (on all four tires) is the minimum requirement. Traction devices such as chains are also acceptable.
Follow @UDOTCottonwoods on Twitter and Instagram for the latest updates on winter driving conditions and when the "Traction Law" (snow tire and chain requirements) is in effect.
RENTING A VEHICLE FOR WINTER WEATHER DRIVING
Winter weather driving is challenging, especially in the Cottonwood Canyons. If you are visiting from out-of-town and renting a vehicle, check with the rental company to verify that your vehicle is equipped with four-wheel drive (4WD) or all-wheel drive (AWD) and the correct tires by showing them this card:
Utah Transit Authority (UTA) increased the Ski Bus trips by 26 percent for the 2019-20 season, with 35 trips going up and down Little Cottonwood Canyon (Route 953 and 994) each day and 79 bus trips going up and down Big Cottonwood Canyon (Route 972) each day. With your season pass to Snowbird, Brighton, Alta, and Solitude – you get to ride the UTA Ski Bus for free!
UTA has six Park & Ride Lots that service the Ski Bus routes. The park & ride lots closest to the canyons are full by 8:30am on most days – including week days. UTA suggests parking at one of the underutilized park & rides for more parking spaces and less of a wait to get on the bus! For the 972 Route (Brighton/Solitude) that's the Midvale Ft Union Station lot. For the 953/994 Route (Snowbird/Alta) that's the 9400 S 2000 E and 6600 S 950 E lots. See the 2019-20 Ski Bus route schedule and map below for a visual.
To locate a bus, use the vehicle locator tool here. You can also visit the UTA website and follow @RideUTA on Twitter for real-time updates on public transit.
HOW TO #TravelWise in the Cottonwood Canyons
TravelWise is a set of actions that encourage Utahns (you too visitors!) to use alternatives to driving solo. By asking you, businesses, communities, and organizations to TravelWise, we can reduce energy consumption, optimize mobility and improve air quality – ultimately improving quality of life. Sometimes there's nothing you can do to avoid taking a trip but a little planning ahead can save you time (and sanity). Plan ahead by following our stories for updates or heading over to the UDOT Traffic App to see where traffic is building and if there are weather-related delays! Other actions include taking public transit, carpooling, changing your route, and altering travel times helps to relieve the red snake and prevent unnecessary car emissions.
The TravelWise Tracker tool helps you find a carpool for your next ride up the canyons. All you need to do is input your trip and find a carpool headed up the canyons. Click the ski resorts below to join their TravelWise carpool network!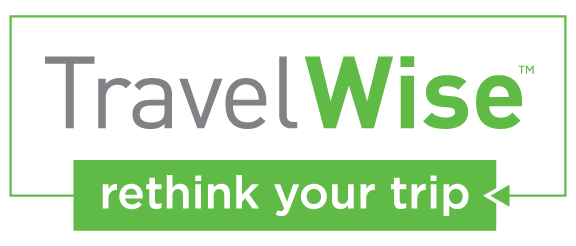 TravelWise Carpool Groups